What is Spot Peel?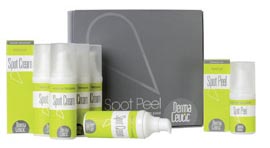 Spot Peel from Dermaceutic™ is the latest scientifically proven innovation to treat pigmentation disorders such as pigmented spots, melasma and post-inflamatory hyperpigmentation. In addition, Spot Peel offers zero risk of pigmentation rebound.
Spot Peel uses the most effective peeling agents to create a wide range of peelings to address all skin's needs. These superficial peels contain Alpha-hydroxy acids and Beta-hydroxy acids, particularly glycolic acid, which is the smallest molecule in fruit acid. For medium peels, the most commonly used agent is TCA.
Spot Peel combines in-office treatments with a home care system to perform focused peel for moderate pigments at home.
The home care system includes the following products:
Foamer 15 cleanser eliminate impurities and dead skin cells leaving the skin smooth and silky
Hyal Ceutic day care intense hydration with 5.5% hyaluronic acid for smoothing and repairing action
Spot Cream applied once a day for stubborn pigmentation to boost results contains the same ingredients as the spot peel
K Ceutic applied as necessary after peels, this intense repairing and soothing product nourishes post peel skin cell residue
What is a Spot Peel treatment like?
A Spot Peel treatment consists of an in-office visit and a home care system that will allow you to continue treatment at home.
During your peel: the peel is performed by your doctor. A session generally lasts 15-30 minutes and is made up of several steps: the cleansing of the area to be treated, the application of the peel and finally, only in certain cases, neutralisation.
After your peel: A few hours after the session a slight redness to a sunburn effect will appear depending on the type of treatment you received.
You must be sure to protect yourself from the sun for at least a month after treatment
One of the great features of Spot Peel is that it does not require any downtime or social exclusion.
Is Spot Peel painful?
During the application of the peeling agent you will feel tingling, a perfectly bearable feeling of heat and then everything will settle down.
What type of skin pigmentation is Spot Peel used for?
Spot Peel can be used to treat many type sort of pigmentation spots, including melasma and post-inflammatory pigmentation.
Spot Peel is also suitable for all photo types even types IV or V.
What makes Spot Peel different?
Spot Peel is scientifically proven to treat pigmentation disorders. In addition, Spot Peel is not painful or irritating for the skin but most importantly, it has Zero risk of pigmentation rebound.
Another advantage of Spot Peel is that it does not require any downtime or social exclusion.
Spot Peel main benefits include:
Reduces the appearance of fine lines and wrinkles
Reduces the appearance of pigmented spots and melasma
Smoothes skin and adds natural radiance
Deep peeling action revitalizes and refreshes skin
Safe and effective
Spot Peel: before and after photos
See for yourself the extraordinary results of Spot Peel. Results shown below are after 30 days of treatment.
Click on the photos to enlarge.